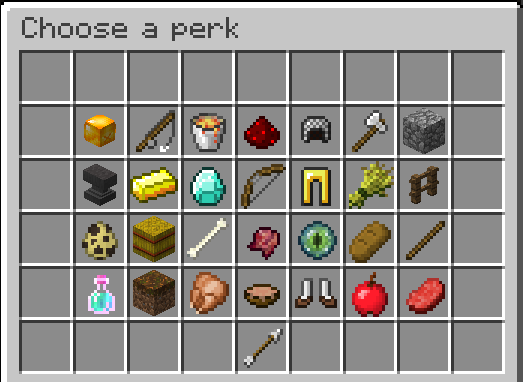 A player's perk selection menu, containing every perk, including prestige-exclusive perks.
---
Perks are upgrades players can purchase to get minor buffs during combat.
Perks can be purchased from the Upgrades NPC starting at level 10. Additional perk slots are unlocked at levels 35 and 70, with a fourth perk slot being purchaseable at level 100 with the Extra Perk Slot renown upgrade unlocked at prestige III.
The level requirement of all perks and perk slots can be bypassed with The Way.
The list of perks available without a prestige are as follows:
Additionally, another fourteen perks can be purchased with renown. While purchasing the perk with renown needs to only be done once, the perk must be purchased with gold
. Players will need to reach a specific prestige before unlocking these perks; this is shown in the "Requirements" column of the table.