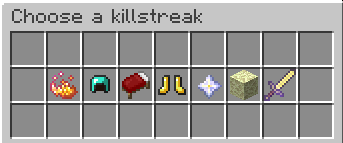 The megastreak selection GUI.
---
Megastreaks are statuses that trigger upon reaching a certain amount of kills. When a megastreak activates, it usually immense benefits for the rest of a player's life. However, megastreaks have major negative effects to prevent players from reaching excessively high killstreaks. Being on a megastreak also disables certain commands that allow the player to safely return to spawn. All megastreaks have an on-death effect to compensate for this.
Players may only have one megastreak active at once.
By default, players have one megastreak – Overdrive. It is enabled by default and cannot be disabled unless the player purchases and selects a different megastreak.
In addition to Overdrive, six megastreaks can be unlocked by purchasing them in the renown shop.
Name
Requirements
Renown Cost
Gold Cost
Beastmode
Prestige

III

/ level

30

10 renown

10,000g

Hermit
Prestige

IV

/ level

50

20 renown

20,000g

Highlander
Prestige

VII

/ level 60

40 renown

40,000g

Magnum Opus
Prestige

X

/ level 70

60 renown

40,000g

To the Moon
Prestige

XIV

/ level 80

150 renown

50,000g

Uberstreak
Prestige

XX

/ level 90

50 renown

50,000g