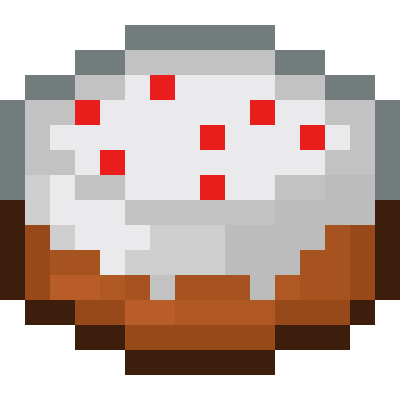 Kept on death
The king's favorite!
The Mini Cake is an item used to complete the King's Quest on the Castle map.
To bake the Mini Cake, the following five items are needed:
The crafting tables are located in a water mill at (103, 76, 9).



To obtain Yummy Bread, a player needs to right click any furnace in the Kings map with 64 wheat. These furnaces can be found in the barn located at (55, 77, −85).
The player will then need to go to the Forest quadrant of the map. Upon reaching the shooting range located at (−94, 80, −31), the player will need to stand on the red clay line and shoot any target in front of them. This will cause a chicken to fly out; feeding one Yummy Bread to it will cause it to lay an egg.



The axe is obtained from the Barbarian

renown

upgrade. It costs

10 renown

and requires prestige

II

. The melons are located on the ship in the Port quadrant; they can be found at (−16, 67, 100).




The sewers can be found beneath the City quadrant. In the sewers, chests frequently spawn, infrequently containing milk.



If the player is unable to complete one or more of these items themselves, they may trade with other players to obtain them.
After all of these items are collected, the player will need to talk to the Baker, an NPC that spawns in a random position of the map. Baking a cake requires prestige I. Upon giving the baker these ingredients, they will be given one Mini Cake.
---
Trivia
Baking a cake will award the player with the "Baker" achievement, worth 10 achievement points.
Mini Cakes were added in The Pit 0.4.1, along with the Castle map and Dark Pants.