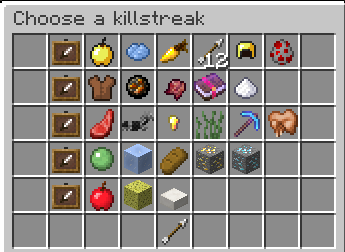 The killstreak menu.
---
A killstreak is a term used in The Pit to refer to two or more kills earned in a row without dying. A player's killstreak is visible on their sidebar. Earning a killstreak of six or higher has a chance to grant the player a bounty; this bounty will continuously increase as the player's killstreak grows.
Killstreak perks are purchaseable at the Upgrades NPC. These grant the user a reward that triggers every time they obtain a certain multiple of kills. Additionally, earning fifty kills, in most cases, triggers a megastreak – a status that grants the user rewards as long as the streak is active.
When players reach level 10, they receive one killstreak slot, granting the player the ability to use one killstreak perk. A second killstreak slot is unlocked at prestige

I

(level 75), and a third can be purchased in the

renown

shop at prestige

IV

for 50

renown

, unlocked at level 100. Players start out with eight killstreaks. Additional killstreaks can be purchased in the Killstreak Bundles section in the renown shop.

Killstreak perks, their requirements, and details are shown below:




Name
Found in
Gold Cost
Reqs.
Description
Highlander

Highlander Bundle

(

VII

,

40 renown

)

30,000g

Triggers on

50

kills / [60]
Main article: Highlander
Trivia
Dying three times in a row without getting a kill triggers a Death Streak, where a player receives the item they get on kill.
Killstreaks were added in The Pit Update 1.0.0 - Release.